Crewton Ramone's Completely Cool Curious Counters' Kindergarten Compendium
At last I have made a book for kids. Here is a blog post with a few more screen shots. Look for it in several forms here soon. Right now it's available for download in pdf format (just click the pic above) but soon it will be available in several formats so you can print it yourself on regular 8 1/2 x 11 paper, fold it in half put a couple staples in it and you are good to go.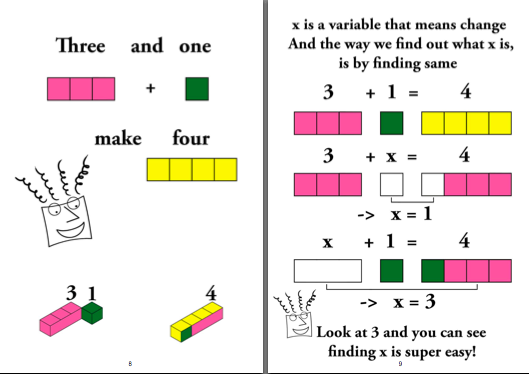 The book is 54 pages long, and covers building 2 through 10, square roots, some simple solving for x, and one large addition problem so they can see the concept remains the same no matter how big we get.
Concepts covered are many. Addition. Solving for X. Square Root. Associative property of addition. Place value. Multiplication by 2. Zero Identity. Numbers are made up of other numbers. The first 25 addends. The idea is to read it over and over again at bed time...
Did I mention it rhymes? (Mostly.)
Right now though all I have is this PDF also going through the copyright process and finding suitable print on demand and so forth. I want to have a hard cover book out soon...for about 10 bucks I hope. The pdf will come free with a password so you can get it for 5 bucks or maybe you buy the book and get a free password depending on how you look at it. Basically the PDF costs 5 bucks and is on the Password Protected PDF's Page NOW.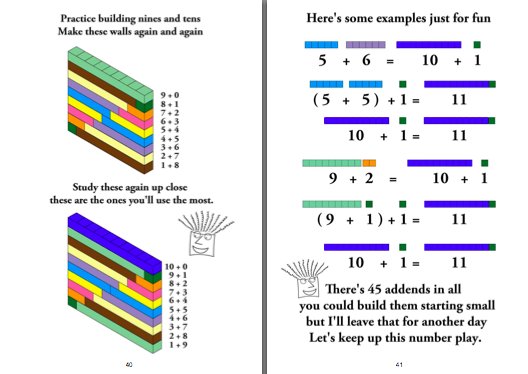 Soon it will also be available for download to various formats like Kindle etc. I plan to use Smashwords. Step one a completed PDF is just about done.
I find it amusing that we are back to the point where keeping the graphics is difficult because all these digital formats are great for text but suck when it comes to heavy graphics and large fonts...which is how we got into the mess we are in with the mathematics in the first place: they left the pictures out!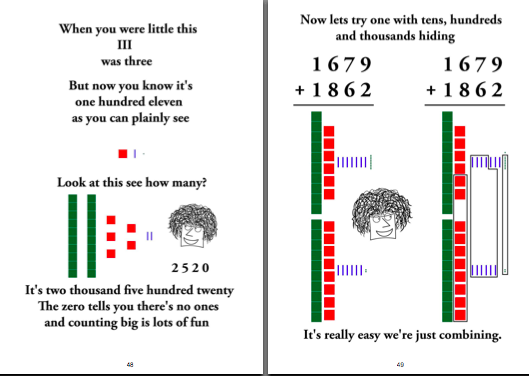 I think you will find the book amusing and informative. And you will give your kindergartener a head start when it comes to math at school...
"You cannot open a book without learning something." ~Confucius
"If one cannot enjoy reading a book over and over again, there is no use in reading it at all."~Oscar Wilde
"'Classic.' A book which people praise and don't read." ~Mark Twain
"Ideally a book would have no order to it, and the reader would have to discover his own." ~Mark Twain
I was gonna do that but I decided I better not with this particular book, but I did write a book like that perhaps one day I'll get published too.