Thoughts from the first day of Math Camp
by Kirk Lunde
(Georgia)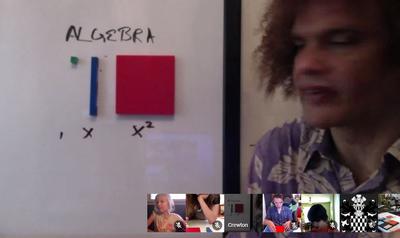 The first period of the Three Period Lesson - This Is.
I am always blown away by how great a teacher Crewton Ramone is. Having worked in public schools and taken some teacher training classes, I can say without hesitation that his classes are straight from the textbook definition of exemplary teaching.

Parents, if you want to learn how to teach your children any subject, watch Crewton Ramone teach math. This is how it is done so the kids are comfortable, engaged, and having fun.
Want to see more free pages & lessons & other free stuff on this site?
Consider a dollar a month.

For $1 per month (the lowest level subscription) you get access to
The
Super Duper Super Secret Facebook Page. 
 
You'll find hours and hours of videos with base ten blocks and information you won't may not find anywhere else not even on this website.  I often post video tutoring sessions there. Other people post vids and links there. Lessons cost the people doing them minimum $50.00 and hour. You can watch 2 to 10 of them a month for a dollar...Do the math. Currently 127 people are there. About half of them are active.
You basically get a support group for a buck a month.


Here's My Patreon:

https://www.patreon.com/CrewtonRamone
Note: from time to time the passwords change. Simply e-mail me for a new one or a new passport as the case may be. Annual passes are good for one year, lifetime passes are good for as long as the site remains up, (site has been up for eight years now).  All single page passwords have lifetime renewal.