Another look at subtraction.
There are several pages that you might want to visit first before you spend time on this subtraction page because for some of you this is going to be difficult to digest. Kids LOVE it though. They love it because it makes math EASY.
Keep in mind the five concepts. Also keep in mind what you learned about regrouping...they drilled it into your head...more than 9 and you get a 10. The numbers tell you how many, the places tell you what kind...and it never gets past nine.
Then they turn right around and tell you to forget all that, borrow a ten or a hundred or what have you and stick it in the ones place or the tens place as needed.
Um. NO.

It NEVER goes past nine.

Also, ask yourself what would you rather do? Subtraction or "small addition"? Everybody likes to add but sometimes students and adults get confused with counting backwards or taking away.
So let's get started. It's a simple concept.

"Take away."

What does that mean?

Put it in terms the student can understand and keep it simple. "Have and owe" are terms they are familiar with, and we can easily get them to equate these terms with plus and minus, add and add and subtract etc, but first we just use have and owe.
For a further discussion of these terms (+, -) go here. For a brief but powerful lesson on "less than" and "greater than" (<,>) go here. There will be no pac men or alligators or bird beaks in my house of math, just a clear understanding of what the symbols mean and where they come from. For a lesson on how to introduce integers go here.[links not built yet]
But briefly, from a very early age we have to introduce the concept of relationships. Those two symbols don't just show plus and minus they show a relationship between two numbers or variables...and mathematics is the study of numbers AND relationships (and more).
We've spent lots of time building 9s and 10s. Basically this first exercise is just building nines and tens. Little kids subtracting from 100.00 who would have thunk it?!
Here is another slightly better video: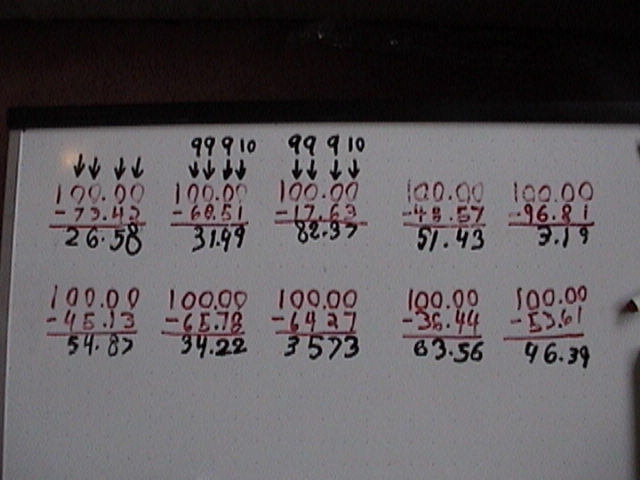 The child who did these was six years old. He was more proud of the fact that he made the numbers well than the fact that he was "subtracting" "big" numbers. All he was doing was small addition...making (from right to left) 3 nines and 1 ten.
"What's so hard about that?" Seven year old math student.
Nothing.

Lets look at the first problem:

100.00
-73.42

Starting from the LEFT 7 needs a 2 to make 9, 3 needs a 6, 4 needs a 5 and 2 needs a 8. DONE. One hundred minus seventy-three, forty-two is twenty-six, fifty-eight. Once you get used to it you can do this as fast as I can write the problems on the board.
Tell a story. I have a 100 dollar bill. I buy a pair of snazzy roller blades for 73.42...how much change do I get back? Have: 100.00. Owe 73.42. What do I left? There is a FREE PDF to practice making change on this page.
WE CAN START HERE, with subtraction if we want to. Or we can talk about building numbers out of other numbers.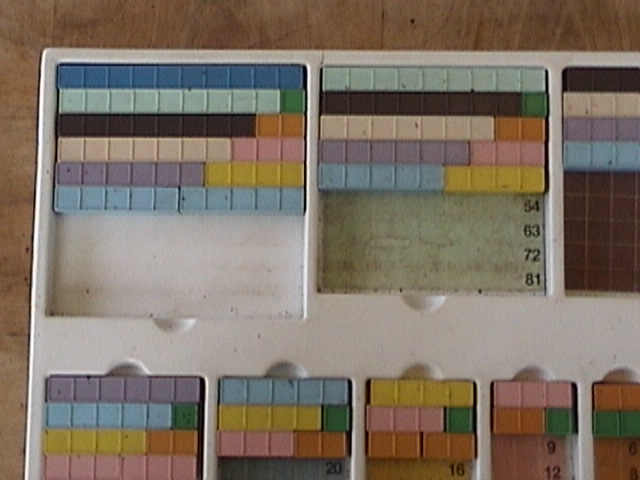 Now lets look at these numbers from the point of view of subtraction. It becomes visually obvious that if I take away 4 from 10 I have 6 left. No need to count just look. We can talk about each of the combinations while the student can see the blocks, without ever writing anything down. Then we can take a math bag or in the case of older students cover the blocks so they can't see them and quiz them on the combinations while telling simple stories...
Addition: I have three chairs set up but there are nine kids coming, how many more chairs do I need? (Subtraction) No I have all nine kids in the room and three are boys how many are girls?
I have ten, I take out the seven what block is left? Can you see we have inverse functions with just a slight shift in focus? The students do. They get it.
Now we can spend time making change for 100.00...easy.
Next lets do a simple problem like


23
-7
So self talk that should be taught is simple: do we have enough? Yes. But can we take the seven out of the three? NO. So where do we take it out of? One of the tens (7 needs 3 to be 10)...so we ADD three to to the three to get six and stilll have a ten...16.
Simple.

What?

Kids who have learned a certain algorithm to solve this will find this confusing at first so do several more examples quickly with the blocks until they get it. Say something like really all we are doing is small addition.

21
-6
Do we have enough? Yes? But can we take the six out of the one? NO. So we take it out of one of the tens...six needs four to be ten so add the four to the one and get 5...15. No counting backwards, no "borrowing" no muss, no fuss; however you can now see what you are doing when you borrow...the other way. Here watch this:

For a bit more on both addition and subtraction check out this first attempt at making gifs to explain math over on my Myspace blog. There won't be many more gifs because they take more time to make than videos...and vids are better for explaining than gifs are.


Here is a link to a couple of math books full of worksheets that attempt to make math fun and interesting. I like them because they let your student practice subtraction without borrowing just like you see on this page. Click the link and you can preview the books for free, so you can see what they are before you buy them. They are perfect for younger students because the jokes and riddles are aimed at little kids...little kids can do this kind of math easily once they understand the concepts.
In "The Math Riddle Book", when kids complete a set of Math problems, they'll be able to decode the answer to a silly but fun riddle.
With "Secret Code Math", kids will use a picture-symbol key to decode Math problems...it makes it a little more fun and interesting to get the answers right while practicing the concepts learned here at Crewton Ramone's House of Math. You can get both e-books for about 20 bucks, and you get about 132 pages combined. Download them and print out the subtraction worksheets and have fun. Here is the important part: "If you buy the books and you're unhappy for any reason, just let me know within 8 weeks and I'll give you a full refund. So give it a try... you've got nothing to lose."
You can click the worksheets tab here and also look around the web for FREE worksheets but those are usually generic and these are a lot more fun but I agree that they are a little pricey. Soon I will have more links to FREE stuff. Meantime you can check out some of the ones I have available for a buck.




From Subtraction Back HOME.

"A man has one hundred dollars and you leave him two--that's subtraction." ~Mae West
How many did she get?

Definitions of: subtraction:
Definition: The act or operation of subtracting or taking away a part.
Definition: The taking of a lesser number or quantity from a greater of the same kind or denomination; an operation for finding the difference between two numbers or quantities.
Definition: The withdrawing or withholding from a person of some right to which he is entitled by law.