Use First Grade Math Worksheets For Practice
Looking for first grade math worksheets or fraction worksheets? Well you have come to the right place. I'll soon have links to several sites that have them for FREE. The problem is they are run of the mill, randomly generated worksheets you should be able to find anywhere.
If you want work sheets where the emphasis is on practice not just drill work here is a good place to go: A-Z Work Sheets. It's a huge site with over 600 pages, you can find much more than just math practice sheets...they have writing, spelling phonics and more for children of all ages but the focus is from K-6.
Here is a FREE math worksheet that helps young students practice writing their numbers and get some practice on what the symbols mean.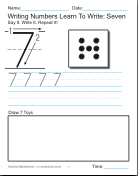 My first grade math worksheets that are similar to this one showing sevens but has all 45 addends on it and is 20 pages long in your choice of black and white or full color...of course you don't have to choose you can download them both if you have a password. You can see it down there, it shows an example of the color worksheet for tens. Here is a two page full color worksheet for practicing the addends for nine and ten and here it is in black and white so your students can color it themselves. For the full 20 page worksheet and a whole lot more get a password and click the green forward arrow below.
There are several other sites that allow you to make your own worksheets, just buy their software. There also are quite a few sites that have work sheets pre-made.
The Mortensen Company assures me they are working on down loadable work sheets and turning their work books into pdf's. Meantime, I have made a worksheet or two myself in my time and have quite a collection of hand written worksheets. There seems to be quite a demand for first grade math worksheets though so this is where I'm going to concentrate my efforts. Check back often and be sure to hit refresh on your browser so you don't end up loading an old page, that goes for most pages on this website.
There was a time when I only had one or two videos and screencasts now there are well over 100, it will be the same with worksheets and down-loadable pdfs.
Soon there will be all manner of free printable math worksheets and Mortensen Math Books available here, not just that one. So please bookmark this page and check back often. Go explore the rest of this website and check out my blog LOTS of learning for FREE.
The Mortensen books are like practice work sheets. They use the concept of degree of difficulty well, starting off easy and staying easy until before you know it you are doing some pretty "advanced" counting.
I'm constantly tinkering adding video, correcting errors and etc. on this website. On this page you should find more and more links to first grade math worksheets for various topics and concepts as time goes by. Most people think little kids are just counting at this age but here at Crewton Ramone's House Of Math, we have little kids doing much more than just counting ordinals and writing numbers, since math is just counting they can learn addition and subtraction, addends, multiplication, division and lots of algebra. Check out my blog for post after post with video and screencasts showing very young children doing "advanced math."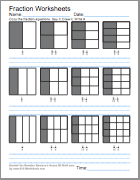 The first grade math worksheets you find here will allow your students or children to practice many of the concepts you see on this website and on my blog, like fractions for example. This first grade math worksheet is perfect for getting young students familliar with fraction concepts at an early age. A three page worksheet is available now on the PDFs page. BE CAREFUL WITH WORKSHEETS. Remember is takes many impressions to get information from the short term memory to the mid term memory to the long term memory, and LOTS of practice to get instant recall. You can use several of the first grade math worksheets over and over again spaced out over time until the concept is mastered. If you allow several weeks to go by it will be "new" all over again for a lot of very young students. They will find each time it gets easier and easier, though.
You will also find blog posts showing you how to use the first grade math worksheets you find here and there should be some screencasts here too. My math worksheets will not be completely free, but you can buy a password that will allow you to download some pdfs for just a buck. Others will simply ask for an email address. The passwords will allow you to access more than just one pdf though, you get them ALL. You can also watch videos on algebra, percentages and more. Right now as of Jan 2011 a password gets you to the advanced algebra page and a pdf download page [page under construction as we speak link below works and there are quite a few pdfs there already!].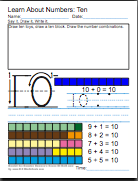 Right now there are more than 10 pdfs to down load but in the coming weeks there will be more (and more), also there will be more links here on this page to FREE (standard worksheet) pdfs. The ones that cost a buck aren't available anywhere else for free, I either created them myself or had the folks over at A-Z make them to my exacting specifications; like the one you see right here. Here is a FREE sample the color pdf for writing 9s and 10s, the one on the password page is 20 pages. (The black and white one where they do the coloring is on the pdfs download page too.) There are ones that are free all over the web and can be found with a little digging at various sites that offer worksheets, not mine though, mine are custom made for base ten blocks. The ones in this screen cast are also on the PDF's page.
The downloads on this site are to worksheets I've made (or have had made for me) that use pictures of base ten blocks to teach math concepts and help you move your child to symbols. Given time they won't need the symbols either and will be able to do an amazing amount of math "in their heads". These are also great for getting them off their fingers. Note you get ALL the PDFs for that same $1.

Here is a screencast for Superbly Simple Subtraction.
And as promised here is the FREE one page version. For all ten pages of Superbly Simple Subtraction get a password, plus there are more great pdfs inside the pdfs page. Just click the green forward arrow below.
Here is a screencast on Fractions ID practice sheets:

Go from first grade math worksheets back HOME. Be sure to bookmark this page. Pdfs galore coming soon, a few FREE ones here and many more at the link below.


Go TO the Pdfs download page. Be sure to bookmark this page too. Pdfs galore coming soon. Don't forget Passwords are also good for the "Advanced Algebra" page, The Percentages Page, the password protected screencasts page and anywhere you are prompted to put a password in -- one password does it all.
Get Your Multi-Page PASSWORD Here:



"Learning is not the product of teaching. Learning is the product of the activity of learners." ~John Holt
"We learn to do something by doing it. There is no other way." ~John Holt